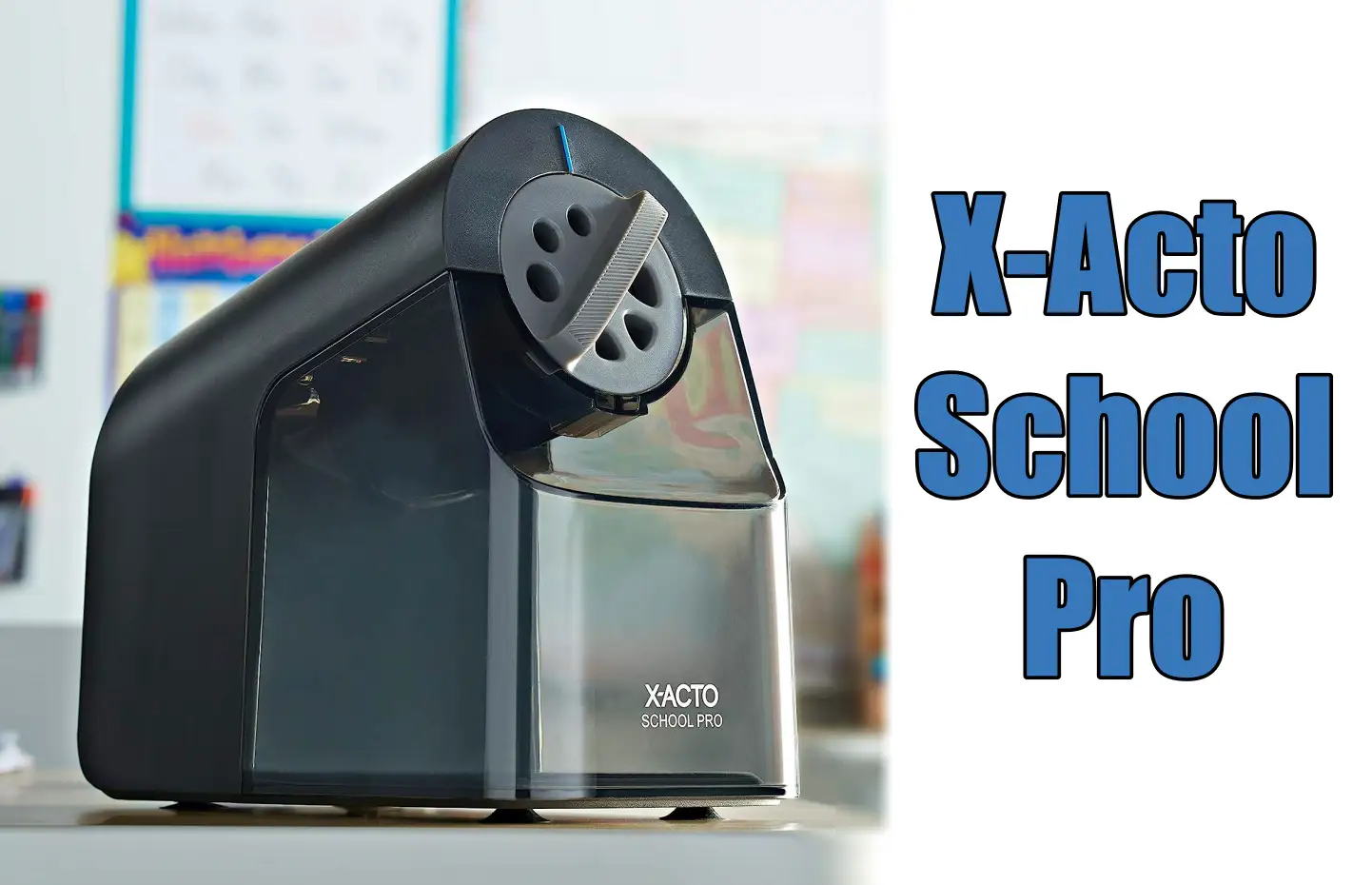 The first question that probably you will ask yourself before and after buying colored pencils will be. Which is the best electric pencil sharpener for colored pencils? And that is a totally normal question, because if you invested in Prismacolor or Faber-Castell colored pencils, then for sure you don't want to destroy them by bad sharpener. And another very important factor is the nicely sharp and clean lead of the pencil, I hope that you keep your pencils sharp and clean for best results you should.
Why is important to have a good electric pencil sharpener?
The first reason is like I said nice and clean sharp lead tip, which is a very important part of every drawing project. With a sharp lead tip, you will have more control over your drawings, and you will be able to apply more details.
The second reason why you should choose not solid but the best electric pencil sharpener for colored pencils is? It is how much you wish to extend life to your colored pencils.
Colored pencils are very soft and from the view of the artist that is great. Because adhesion to paper is great, and we can blend them easily. But when we take those soft pencils and we use some cheap sharpener you cut the durability of pencils for probably 50% if not more. So once again if you are serious about drawing with colored pencils choose the right sharpener, it is a smart investment.
What are the options for the sharpening of colored pencils?
I will go straight to the head with this one. You can use a knife for sharpening pencils, generic handheld sharpeners, manual hand crank sharpener and electric pencil sharpeners with latest technology integration. All of them have advantages and disadvantages. However, all of them will do the job! Some of them will be better for graphite some for charcoal pencils and colored pencils.
Steel Cutter
Sharpener
Handmade
Check Prices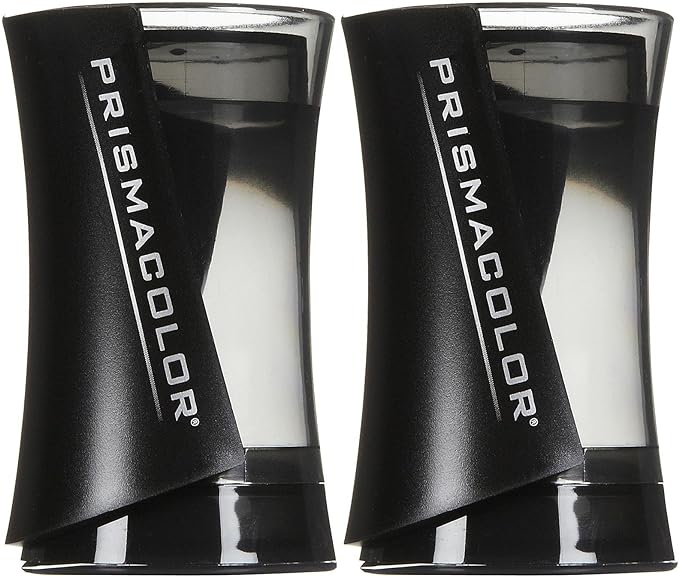 Prismacolor Premier Pencil Sharpener
Best seller
Check Prices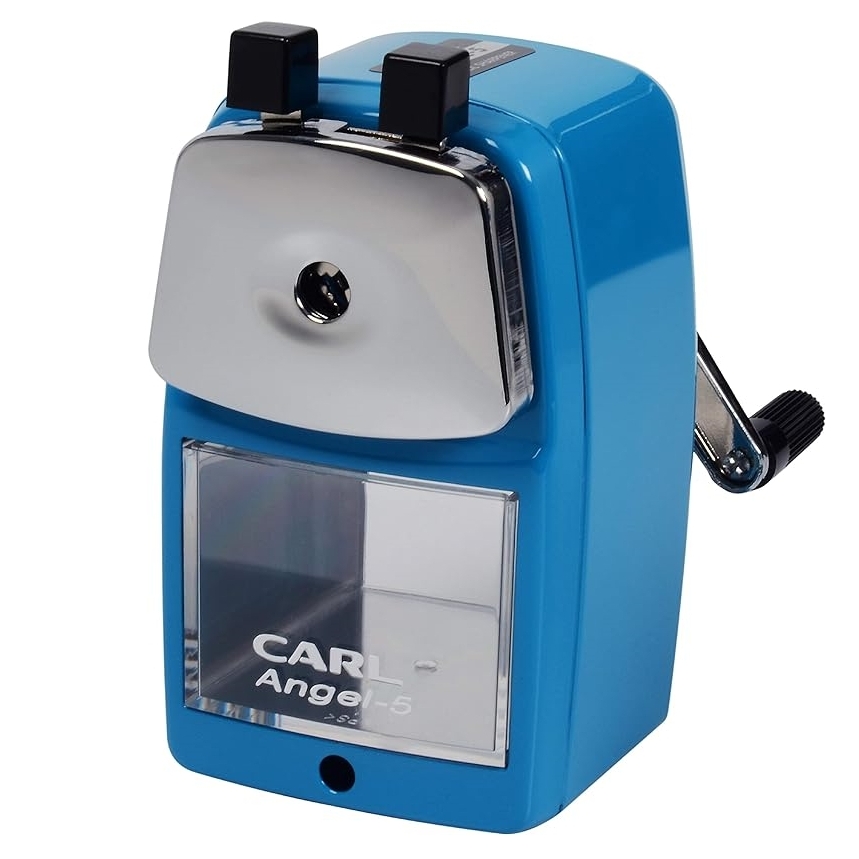 CARL Angel-5 Pencil Sharpener
Alloy Steel, Aluminum
Check Prices
But we will stick today on electric beasts for sharpening, and for others, we will take time later.
Best Electric Pencil Sharpener for Artists
In this review, I will cover the two best electric pencil sharpeners for colored pencils. They are at the moment the top best available, those that can satisfy all needs of the artist.
Before we start with this review one thing you must take into consideration. Every sharpener needs maintenance! If you don't maintain them, then even the best electric sharpener will not work for a long time. And you will be disappointed.
And the only reason is that you didn't maintain good enough blades, and you didn't clean from shavings inside of the sharpener. So for the best performance of every electric sharpener maintenance is something you must do. Especially if you will use your electric pencil sharpener for colored pencils.
Colored pencils like Prismacolor, Faber Castell, or Derwent colored pencils have a wax base.
And the wax is the worst enemy to blades in sharpener! Why is it like that? Because blades are rotating at a high speed inside of electric sharpener, this rotation and friction create a large heat. And of course, wax from pencils melts and sticks to the blades of the sharpener, which is.
If you don't clean them from wax you will have soon overheate and also your blades will not cut as they need, and that will result probably in a broken lead tip.
The trick for cleaning blades from wax is very simple, just follow these steps. All you have to do is after 5 to 10 sharpening of wax-based colored pencils you take one normal graphite pencil and put it through the sharpener.
Repeat that two or three times with a graphite pencil and you will remove all wax from the blades, and they will be ready for wax-based colored pencils again. Graphite is the natural lubricant and cleaner for blades, so it's highly recommended to do this process.
In the reviews below, I have selected the two best pencil electric sharpeners for colored pencils, and I can say with confidence that those heavy-duty sharpeners will never fail you!
Best Electric Pencil Sharpener for Colored Pencils Review

Just a heads up, some of the links provided are Amazon affiliate links. If you buy something through these links, Art Zone may earn a commission. This won't change your purchase price. Thanks for your support!
School Smart Electric Vertical Pencil Sharpener
It is a powerful and fast heavy-duty pencil sharpener. School Smart Electric sharpener is one of the best electric pencil sharpeners for colored pencils. A durable little beast that goes over the limits, and it is widely used in classrooms and art classes. The main reason is the power, which ensures that you have in two to three seconds razor-sharp pencil tip. No time to waste.

Powerful motor with razor-sharp blades
When you have a powerful motor you need also to have a powerful blade system, and helical steel blades ensure that the pace of the motor can pull out maximum efficiency. Motor and blades, when are working, are not so quiet, but for the exchange of performance that you get this is a fair bargain.

Autostop function that protects your pencils from over-sharpening
The auto-stop function is a very useful function on a pencil electric sharpener, and if you ask me must be the function.
When you have a powerful and fast sharpener like the School Smart Sharpener if you don't have an auto-stop function you will probably very fast destroy all of your pencils. Every person has different pressure when they put pencils through the sharpener, some of us will push lightly and some hard.
That can lead to you having a pointy tip but you will not feel it, and you will just push more and more until you "eat" your pencil with a sharpener. So once again, the autostop function is very good to add on!

Very large shavings receptacle
I have said that this is a heavy-duty sharpener, and that is the reason why you will get a large shavings receptacle. And that is also another great thing, imagine working in a classroom where you must sharpen fifty pencils.
I'm sure you don't wish to walk to the garbage to throw away shavings after every five pencils, but with this receptacle, you will have no worries. It can handle much more than one classroom of pencils, and it is transparent so you can easily see when it's time to empty the shavings.
Positive
Very fair price
Fast and durable
Many satisfied users
Negatives
Little loud
Blades are not replaceable
One size standard pencil
| | |
| --- | --- |
| Product Dimensions | 8.5 x 8 x 5.7 inches |
| Product weight | 1 pounds |
| Blades | Helical steel blades |
| Product materials | Plastic/Steel |
| Warranty | 10 years |
---

Just a heads up, some of the links provided are Amazon affiliate links. If you buy something through these links, Art Zone may earn a commission. This won't change your purchase price. Thanks for your support!
X-Acto School Pro 1670 Electric Pencil Sharpener
On the first look, you will see that this sharpener deserves the title of Best Electric Pencil Sharpener for Colored Pencils, and you are not wrong. X-Acto says that teachers designed this sharpener, and if that is true then they did an awesome job. They manage to design a perfect sharpener with a classy look, with great durability. Compared to the School Smart pencil sharpener that I have mentioned before, the X-Acto School Pro 1670 is two levels above.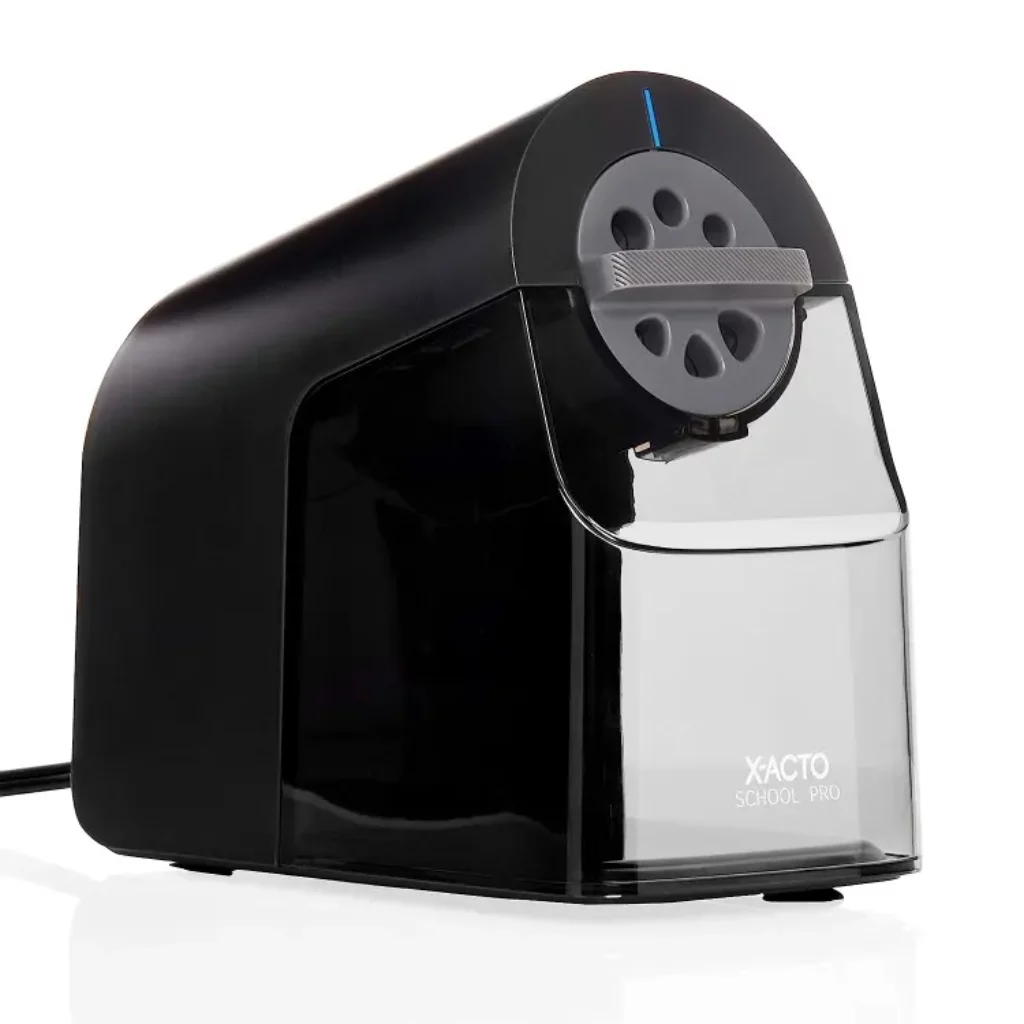 Powerful but quiet motor
The motor is designed for heavy-duty work but works with a very low level of noise. It is perfect for classrooms or art classes, and in all places, that silence is needed.

Helical Cutter for Perfect Precision with autostop function
The helical cutter on X-Acto School Pro 1670 is made to aim for precision and durability, and it uses an autostop function.
It uses a patented fly-away cutter system, which prevents pencils from over-sharpening. And when you have that system, then you have also reduced the waste of your pencils.
But the best thing and reason you fell in love are exchangeable cutters, replacement is easy and fast. The cutter is great for all kinds of pencils, even colored pencils. But remember what I said maintenance!

6-Pencil Hole Sizes Dialer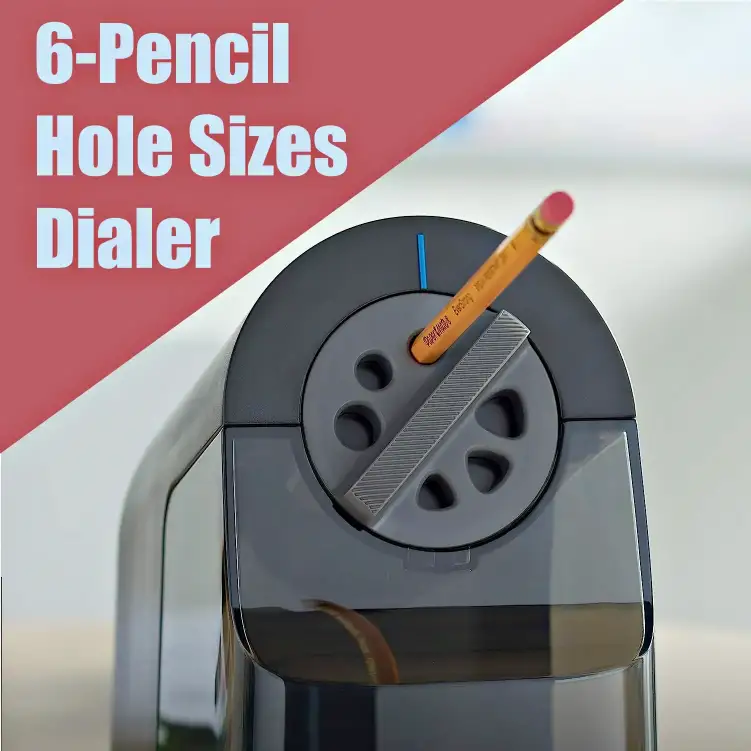 With a variety of pencils on the market, with different thicknesses, you can face a problem if you have only a standard-size sharpener.
With X-Acto, you will not have any problems, you will have a 6-pencil hole dialer. Each hole is for different sizes of pencils, and you can sharpen any shape.
By simple rotation of the wheel with holes you choose to thicken, and you get a perfectly stable pencil during sharpening.
Large pencil shavings receptacle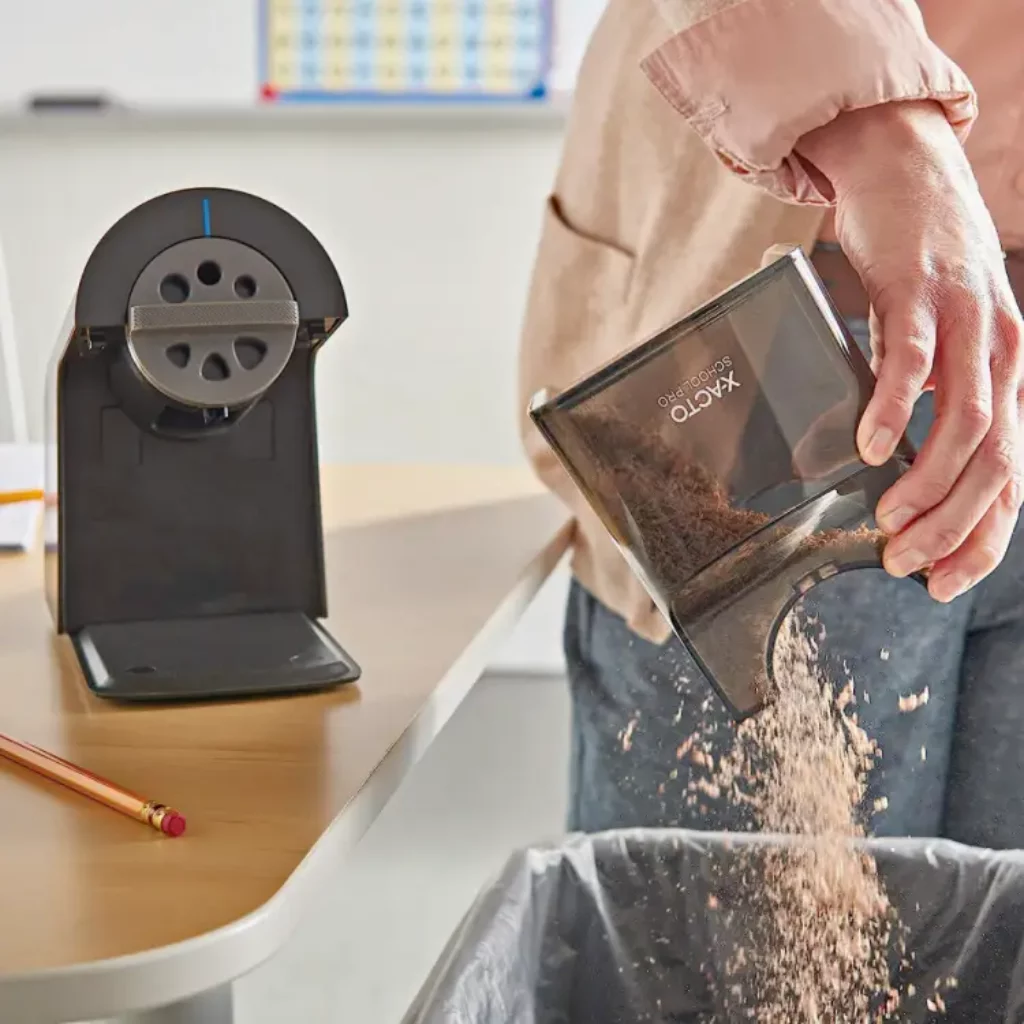 The perfect receptacle for long runs of sharpening, it is designed for the classroom. I'm wondering when you will fill out this receptacle, you will probably forget that exists.
And that is great because we can spend more time on our artwork. And less on trash cans! 
Positive
10 years warranty
Very quiet
Exchangeable blades
Fair price
Negatives
Little bigger than others
Technical Details
| | |
| --- | --- |
| Product Dimensions: | 8.5 x 8 x 5.7 inches |
| Product weight: | 1 pounds |
| Blades: | helical steel blades |
| Product materials: | Plastic/Steel |
And I wish to say in the end that both sharpeners are great, and very well known among users of pencils. And don't be fooled by the basic look of the School Smart Electric Vertical Sharpener, maybe looks basic but it will do a great job with all of your standard-size pencils.
Prismacolor and Faber Castell are standard-size pencils, so you will have no problem. And if you choose the X-Acto electric pencil sharpener, well I must admit it is my favorite. It has everything that I would need, and 10 10-year warranty.
---
Advice to get the most out of your electric pencil sharpener

Read the manuals of your pencil sharpener; you can learn how is your sharpener works. What kind of approach do you need?
Test with some old pencils, so you learn more about the results of sharpening, and how to achieve the best possible results.
Try different kinds of sharpeners, and this sounds like crazy expensive advice but think about it. What is better to waste a little more to find the best sharpener for your pencils or to buy new sets of expensive artists' colored pencils which are the price of the sharpener?
If your tip is dull use sandpaper to make it sharp again, this is to use your pencils longer. The only thing is to have in mind to sharpen them in wide-angle.
X-Acto Pencil Sharpener for Best Results
ProX Commercial Electric Pencil Sharpener
Best Drafting Table for Artists
Koh-I-Noor Woodless Colored Pencils